Lista de participantes a la reunión Bilderberg 2011
en St. Moritz,
Suiza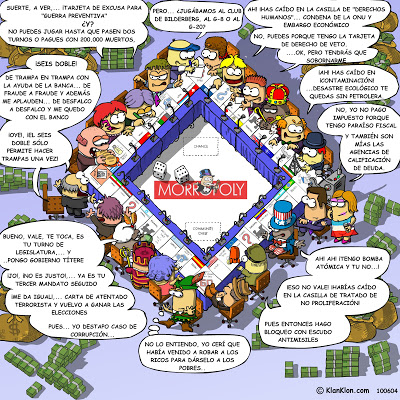 Los sospechosos comunes asistieron otra vez al Club Bilderberg 2011 en Suiza: Kissinger, Rockefeller, Thiel, la Reina Sofía; Google, Facebook, Microsoft, Goldman Sachs…
La reunión política más importante del año se celebró el fin de semana próximo pasado en un exclusivo hotel suizo. Como cada año la lista de asistentes al Club Bildereberg fue mucho más impresionante que la lista de asistentes a una cumbre política como el G-20 o el Foro Mundial de Economía, ya que los participantes son las personas con verdadero poder político y no solamente títeres y marionetas de la fachada ejecutiva del planeta.
Esta vez hubo una clara tendencia representativa de compañías de tecnología: Jeff Bezos, fundador de Amazon; Chris Hughes, co-fundador de Facebook y el transhumanista Peter Thiel, accionista de Facebook, de PayPal; Eric Schmidt, director ejecutivo de Google; Craig Mundie director de estrategia de Microsoft (y posiblemente Bill Gates, ya que algunos miembros del club piden ocultar su nombre de la lista). Esto parece apuntar en la dirección ya mencionada de que parte de la agenda de este año fue la ciberseguridad y el control del internet, lo que incluyó a Neelie Kroes, comisionado europeo de regulación digital.
El gobernador de Texas, Rick Perry, asistente en 2007, fue apoyado como candidato a la presidencial para el 2012 en Estados Unidos por este club que antes ha apadrinado a otros presidentes de Estados Unidos y la Unión Europea.
Infaltables, como siempre asistió David Rockefeller y su operador político Henry Kissinger, el presidente en turno del consejo de la Unión Europea Herman van Rompuy; la Reina Sofía de España; Peter Sutherland, el director de Goldman Sachs y ex director de BP; Robert Rubin, el creador del modelo económico que impera en Wall Street, ex secretario de Tesoro de Estados Unidos y ex CEO de Goldman Sachs; Richard Perle, el estadista neocon; Carl Bildt, ex primer ministro sueco y parte del linaje de máximo poder en ese país; Josef Ackermann, CEO del Deutsche Bank; o el ya acostumbrado José Luis Cebrián del grupo Prisa. Es de destacarse este año presencia de China con su viceministro de Relaciones Exteriores.
En
Above Top Secret
pueden consultar esta misma lista segmentada por las distintas agendas y sus representantes (reducció de población, control financiero, propaganda, petroleras, farmacéuticas, etc.)
Bélgica
· Coene, Luc, Governor, National Bank of Belgium
· Davignon, Etienne, Minister of State
· Leysen, Thomas, Chairman, Umicore
China
· Fu, Ying, Vice Minister of Foreign Affairs
· Huang, Yiping, Professor of Economics, China Center for Economic Research, Peking University
Dinamarca
· Eldrup, Anders, CEO, DONG Energy
· Federspiel, Ulrik, Vice President, Global Affairs, Haldor Topsøe A/S
· Schütze, Peter, Member of the Executive Management, Nordea Bank AB
Alemania
· Ackermann, Josef, Chairman of the Management Board and the Group Executive Committee, Deutsche Bank
· Enders, Thomas, CEO, Airbus SAS
· Löscher, Peter, President and CEO, Siemens AG
· Nass, Matthias, Chief International Correspondent, Die Zeit
· Steinbrück, Peer, Member of the Bundestag; Former Minister of Finance
· ·
Estados Unidos
· Alexander, Keith B., Commander, USCYBERCOM; Director, National Security Agency
· Altman, Roger C., Chairman, Evercore Partners Inc.
· Bezos, Jeff, Founder and CEO, Amazon.com
· Collins, Timothy C., CEO, Ripplewood Holdings, LLC
· Feldstein, Martin S., George F. Baker Professor of Economics, Harvard University
· Hoffman, Reid, Co-founder and Executive Chairman, LinkedIn
· Hughes, Chris R., Co-founder, Facebook
· Jacobs, Kenneth M., Chairman & CEO, Lazard
· Johnson, James A., Vice Chairman, Perseus, LLC
· Jordan, Jr., Vernon E., Senior Managing Director, Lazard Frères & Co. LLC
· Keane, John M., Senior Partner, SCP Partners; General, US Army, Retired
· Kissinger, Henry A., Chairman, Kissinger Associates, Inc.
· Kleinfeld, Klaus, Chairman and CEO, Alcoa
· Kravis, Henry R., Co-Chairman and co-CEO, Kohlberg Kravis, Roberts & Co.
· Kravis, Marie-Josée, Senior Fellow, Hudson Institute, Inc.
· Li, Cheng, Senior Fellow and Director of Research, John L. Thornton China Center, Brookings Institution
· Mundie, Craig J., Chief Research and Strategy Officer, Microsoft Corporation
· Orszag, Peter R., Vice Chairman, Citigroup Global Markets, Inc.
· Perle, Richard N., Resident Fellow, American Enterprise Institute for Public Policy Research
· Rockefeller, David, Former Chairman, Chase Manhattan Bank
· Rose, Charlie, Executive Editor and Anchor, Charlie Rose
· Rubin, Robert E., Co-Chairman, Council on Foreign Relations; Former Secretary of the Treasury
· Schmidt, Eric, Executive Chairman, Google Inc.
· Steinberg, James B., Deputy Secretary of State
· Thiel, Peter A., President, Clarium Capital Management, LLC
· Varney, Christine A., Assistant Attorney General for Antitrust
· Vaupel, James W., Founding Director, Max Planck Institute for Demographic Research
· Warsh, Kevin, Former Governor, Federal Reserve Board
· Wolfensohn, James D., Chairman, Wolfensohn & Company, LLC
Finlandia
· Apunen, Matti, Director, Finnish Business and Policy Forum EVA
· Johansson, Ole, Chairman, Confederation of the Finnish Industries EK
· Ollila, Jorma, Chairman, Royal Dutch Shell
· Pentikäinen, Mikael, Publisher and Senior Editor-in-Chief, Helsingin Sanomat
Francia
· Baverez, Nicolas, Partner, Gibson, Dunn & Crutcher LLP
· Bazire, Nicolas, Managing Director, Groupe Arnault /LVMH
· Castries, Henri de, Chairman and CEO, AXA
· Lévy, Maurice, Chairman and CEO, Publicis Groupe S.A.
· Montbrial, Thierry de, President, French Institute for International Relations
· Roy, Olivier, Professor of Social and Political Theory, European University Institute
Gran Bretaña
· Agius, Marcus, Chairman, Barclays PLC
· Flint, Douglas J., Group Chairman, HSBC Holdings
· Kerr, John, Member, House of Lords; Deputy Chairman, Royal Dutch Shell
· Lambert, Richard, Independent Non-Executive Director, Ernst & Young
· Mandelson, Peter, Member, House of Lords; Chairman, Global Counsel
· Micklethwait, John, Editor-in-Chief, The Economist
· Osborne, George, Chancellor of the Exchequer
· Stewart, Rory, Member of Parliament
· Taylor, J. Martin, Chairman, Syngenta International AG
Grecia
· David, George A., Chairman, Coca-Cola H.B.C. S.A.
· Hardouvelis, Gikas A., Chief Economist and Head of Research, Eurobank EFG
· Papaconstantinou, George, Minister of Finance
· Tsoukalis, Loukas, President, ELIAMEP Grisons
Organizaciones Internacionales
· Almunia, Joaquín, Vice President, European Commission
· Daele, Frans van, Chief of Staff to the President of the European Council
· Kroes, Neelie, Vice President, European Commission; Commissioner for Digital Agenda
· Lamy, Pascal, Director General, World Trade Organization
· Rompuy, Herman van, President, European Council
· Sheeran, Josette, Executive Director, United Nations World Food Programme
· Solana Madariaga, Javier, President, ESADEgeo Center for Global Economy and Geopolitics
· Trichet, Jean-Claude, President, European Central Bank
· Zoellick, Robert B., President, The World Bank Group
Irlanda
· Gallagher, Paul, Senior Counsel; Former Attorney General
· McDowell, Michael, Senior Counsel, Law Library; Former Deputy Prime Minister
· Sutherland, Peter D., Chairman, Goldman Sachs International
Italia
· Bernabè, Franco, CEO, Telecom Italia SpA
· Elkann, John, Chairman, Fiat S.p.A.
· Monti, Mario, President, Univers Commerciale Luigi Bocconi
· Scaroni, Paolo, CEO, Eni S.p.A.
· Tremonti, Giulio, Minister of Economy and Finance
Canadá
· Carney, Mark J., Governor, Bank of Canada
· Clark, Edmund, President and CEO, TD Bank Financial Group
· McKenna, Frank, Deputy Chair, TD Bank Financial Group
· Orbinksi, James, Professor of Medicine and Political Science, University of Toronto
· Prichard, J. Robert S., Chair, Torys LLP
· Reisman, Heather, Chair and CEO, Indigo Books & Music Inc. Center, Brookings Institution
Holanda
· Bolland, Marc J., Chief Executive, Marks and Spencer Group plc
· Chavannes, Marc E., Political Columnist, NRC Handelsblad; Professor of Journalism
· Halberstadt, Victor, Professor of Economics, Leiden University; Former Honorary Secretary General of Bilderberg Meetings
· H.M. the Queen of the Netherlands
· Rosenthal, Uri, Minister of Foreign Affairs
· Winter, Jaap W., Partner, De Brauw Blackstone Westbroek
Noruega
· Myklebust, Egil, Former Chairman of the Board of Directors SAS, sk Hydro ASA
· H.R.H. Crown Prince Haakon of Norway
· Ottersen, Ole Petter, Rector, University of Oslo
· Solberg, Erna, Leader of the Conservative Party
Austria
· Bronner, Oscar, CEO and Publisher, Standard Medien AG
· Faymann, Werner, Federal Chancellor
· Rothensteiner, Walter, Chairman of the Board, Raiffeisen Zentralbank Österreich AG
· Scholten, Rudolf, Member of the Board of Executive Directors, Oesterreichische Kontrollbank AG
Portugal
· Balsemão, Francisco Pinto, Chairman and CEO, IMPRESA, S.G.P.S.; Former Prime Minister
· Ferreira Alves, Clara, CEO, Claref LDA; writer
· Nogueira Leite, António, Member of the Board, José de Mello Investimentos, SGPS, SA
Suecia
· Mordashov, Alexey A., CEO, Severstal
· Bildt, Carl, Minister of Foreign Affairs
· Björling, Ewa, Minister for Trade
· Wallenberg, Jacob, Chairman, Investor AB
Suiza
· Brabeck-Letmathe, Peter, Chairman, Nestlé S.A.
· Groth, Hans, Senior Director, Healthcare Policy & Market Access, Oncology Business Unit, Pfizer Europe
· Janom Steiner, Barbara, Head of the Department of Justice, Security and Health, Canton
· Kudelski, André, Chairman and CEO, Kudelski Group SA
· Leuthard, Doris, Federal Councillor
· Schmid, Martin, President, Government of the Canton Grisons
· Schweiger, Rolf, Ständerat
· Soiron, Rolf, Chairman of the Board, Holcim Ltd., Lonza Ltd.
· Vasella, Daniel L., Chairman, Novartis AG
· Witmer, Jürg, Chairman, Givaudan SA and Clariant AG
España
· Cebrián, Juan Luis, CEO, PRISA
· Cospedal, María Dolores de, Secretary General, Partido Popular
· León Gross, Bernardino, Secretary General of the Spanish Presidency
· Nin Génova, Juan María, President and CEO, La Caixa
· H.M. Queen Sofia of Spain
Turquía
· Ciliv, Süreyya, CEO, Turkcell Iletisim Hizmetleri A.S.
· Gülek Domac, Tayyibe, Former Minister of State
· Koç, Mustafa V., Chairman, Koç Holding A.S.
· Pekin, Sefika, Founding Partner, Pekin & Bayar Law Firm
Nota Profética: